Our PalletPal Line has it covered from soup to nuts... instock and ready to ship!
Posted on May 2nd, 2016 at 4:27 PM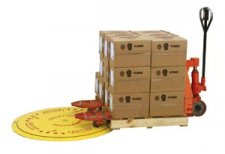 The Spring Actuated PalletPal The Spring PalletPal incorporates a turntable to allow nearside loading and unloading of product. Its unique spring design allows the machine to lower and raise as pallets are built up and broken down while maintaining a constant working height. Pneumatic and Hydraulic PalletPals available. Don't miss our PalletPal Mobile Levelers, Roll-On Level Loaders and our full line of Stackers.
To explore our PalletPal Family of products, visit our online catalog to shop now. If you have any questions, please call our sales department at 800-861-4643.