Below the Hook Lifting Devices and Lifting Equipment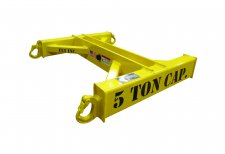 Materials Handling Enterprises offers quality below-the-hook lifting devices for all of your heavy lifting needs from a wide variety of material handling equipment manufacturers. Below-the-hook lifters are helpful pieces of lifting equipment that provide a connection point between the load and the crane. They have the ability to grip, lift, and transport your valued products.
Below-the-hook lifting devices can be structural mechanical lifting devices, vacuum lifters, and magnet lifters. Having the proper lifting equipment is crucial for any job. Our team at Materials Handling Enterprises can custom design material handling equipment to perfectly fit your needs and requirements. Contact our team to request a free quote for custom-built below the hook lifting devices.
Lifting heavy products? Shop online now for quality lifting equipment!
Additional Photos