Conveyor Belts, Conveyors, and Conveyor Systems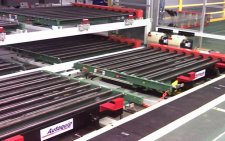 Materials Handling Enterprises offers quality conveyor systems and conveyors to help transfer your products from one location to another. The staff at MHE can find quality conveyor systems for any type of material handling requirement.
Whether you need a ball transfer system, conveyor belts, roller conveyors, or skate wheel conveyors, we can also custom design a conveyor system to perfectly fit your needs. Contact our team for a free quote for custom-built conveyor systems.
Need a conveyor system for easy product transportation? Shop online now!