Storage Racks, Stacking Frames, and Rack Accessories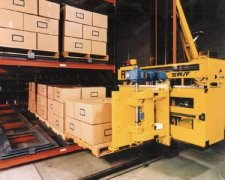 Ridg-U-Rak is considered the premier name in quality rack storage systems, pallet racking systems, and bulk storage racks. Our long relationship with Ridg-U-Rak has enabled Materials Handling Enterprises to provide real ergonomic solutions to our customer's unique storage problems. MHE offers a complete line of the following storage racks, pallet racking systems, and rack storage systems from Ridg-U-Rak:
100% Selective Rack
Drive-in Racks
Cantilever Systems
Wide-Span Shelving
Push-Bak Systems
Flow Rack Systems
Tool & Die Rack
Mezzanine Systems
In addition, we provide special adaptations such as reel racks, coil racks, stacking frames, boat racks, and carpet racks. We offer quality rack storage systems from Ridg-U-Rak in addition to other ergonomic product manufacturers.


Download full Ridg-U-Rak Catalog »


Shop for pallet racking and rack storage systems online now from MHE.
Additional Photos