Fall Protection Systems and Workplace Safety Equipment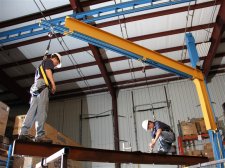 Ensure that your company has an active means of protecting workers from injury through fall protection systems from Materials Handling. We can provide cost-effective fall protection systems or workplace safety equipment to reduce the risk of injury in elevated work environments.
Materials Handling also provides customized fall protection systems to fit the specific needs of your site. Our team will work with you to determine the best fall protection solution for you and we can ensure to meet OSHA and MSHA compliance. Contact us to request a quote for a custom fall protection system designed just for you.
Make your workplace a safe place. Shop online now for workplace safety equipment!