Hydraulic Tilt Tables and Ground Lift Tilters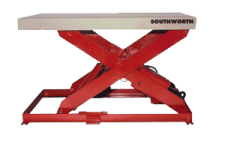 Materials Handling Enterprises offers hydraulic tilt tables and ground lift tilters from a variety of top ergonomic equipment manufacturers. Hydraulic tilt tables are specifically designed to improve the worker's productivity and safety by positioning wire baskets and other large containers so that parts are easily accessible without the need for bending, reaching, or stretching.
Hydraulic tilt table models are available for load capacities up to 20,000 lbs. Lift and tilt tables can be used for applications such as machine feeding, work position, and pallet loading.
At Materials Handling, we are also able to custom engineer ground lift tilters and hydraulic tilt tables to meet the specific needs of your workers. Contact us to learn more about the hydraulic tilt tables that we offer.
(Lines: Southworth, Presto, Autoquip, Warren, Westbend, and others)
Buy hydraulic tilt tables and ground lift tilters online now through our catalog!